Who We Work With
Youth in our community
Medical and mental health professionals
Law enforcement
Businesses
Youth-serving organizations
Churches and religious organizations
Civic and volunteer groups
City, state and federal government
Treatment agencies and other organizations involved in reducing substance abuse
Our Volunteers
Business leaders
School faculty
Church leaders
Parents
Government employees
Youth
Healthcare professionals
Law enforcement
Media professionals
Youth organization members
Civic organization leaders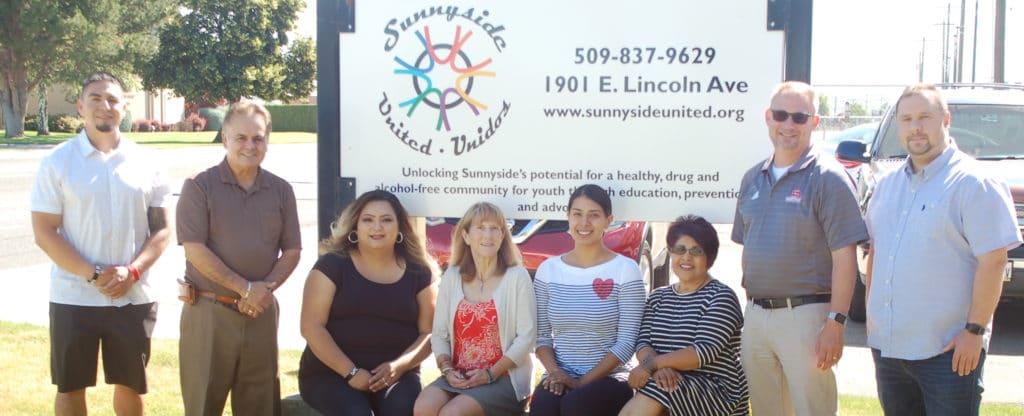 Interested in joining?
Fill out our volunteer form!
Nathan  serves as Youth Pastor at Neighborhood Church in Sunnyside, WA.  Nathan was born and raised in Sunnyside, where he attended and graduated from Sunnyside Christian High school.  Nathan attended Multnomah University in Portland, Oregon and graduated with a Bachelors of Science in Bible and Theology, with a Youth Ministry Major.  Nathan has served the local church for 16 years in various roles and positions.  Nathan has previously worked in the special education department at Granger School District, as well as Service Alternatives in Sunnyside. In his free time, Nathan enjoys coffee, shopping, traveling, boating, camping and fishing.
Norma Jean Rios: Co-Chair
Norma Jean Rios is smart, strong, confident and independent. She is the mother of 3 beautiful daughters Tina, Amanda & Stacey. Her 4 grand-kids; Nevaeh, TJ, Cati, and baby boy Alaki are her pride and joy.
Norma likes spending time with her family, playing board games & especially Loteria for hours at a time. She fears spiders and snakes!"I am proud of my Daughters for I have raised them well and they strive every day to make me proud of their accomplishments
Norma Jean has received many recognitions from her community members; Yakima County, Homeless Connect, The Mid Valley Providers Consortium, YVCC, etc. Her volunteer experience includes working with Fred Hutch Cancer Research Center, Sunnyside School District, and Planned Parenthood as a Promotor De Salud. You bet you will see her at all community events!
Jorge Bazaldua - At Large Board Member
Jorge comes from an immigrant family from Mexico, Son of Jorge and Socorro Bazaldua.  His family has been in small business since the 70's in the Lower Valley.  In January 2016, he opened Lower Valley Fitness Club, formerly known as the Valley Racquet Club. Lower Valley Fitness Club has been able to support the community and members in different avenues. Before he began his profession in business, he worked in sanitation since the age 15.  Slowly he worked his way into an office position and at the age of 24, he took the opportunity to help his parents run their business.  Since then Jorge has opened an online sticker and t-shirt business. He also helped his sister start the first Crossfit Gym in Sunnyside.
"When I am not at work, well it's hard to leave work to lift weights, but I love to lift weights. I also consider myself somewhat an outdoorsy person. During spring, summer, and fall; I try to find the time to hike with my beautiful wife and dog and go mountain biking.  During the winter months I love to snowboard.  I also love reading books but primarily listen to podcasts."
"Life is hard, hard for everyone, there is no getting out of it, but we get to choose our hard."
Ed Gallo - At Large Board Member
JGallo serves as Young Life Area Director in the Yakima Lower Valley. Gallo was born in Mexico and immigrated to the United States in 1996. He has been in youth ministry in the USA for the past 17 years.  Gallo has served with Young Life for the past 7 years and has served in other organizations as a minister for 17 years, in different states.  Gallo has previously worked in church planting, as well as Camp Director for Cityteam International in Santa Cruz California. In his free time, Gallo enjoys cooking and serving others. Gallo has been married for almost 10 years with Bethany Gallo a First Grade Teacher in the Sunnyside School District. They have two daughters named Sophia (7) and Annalise (4).

Blanca Hernandez - Administrative Assistant
Blanca  has been part of the Coalition since 2016. She loves her job, serving the community, and working with the fun amazing staff. Blanca graduated from Sunnyside High School in 2001 and is currently attending Yakima Valley College in Grandview. She is a parent volunteer at Outlook Elementary and is a volunteer Catechist for St. Joseph Catholic Church. Because of her love and passion for serving her community Blanca is excited to be part of the team. Blanca is married and has four wonderful children. Has a total of eleven siblings. She loves to cook, exercise, and is fond of farm animals.
Brenda Barrios - Community Coalition Program Specialist
Brenda was raised in Sunnyside, graduated from Sunnyside High school, and followed her dreams by attending the University of Washington, Seattle. There she received a B.A. in Sociology, B.A in Comparative History of Ideas, Minor in Human Rights, and a Business Certificate. Her passion is to be involved in an established organization that is able to empower youth to reach their highest potential as individuals and develop a positive self/cultural identity so it is only fitting that she landed at Sunnyside United-Unidos! She currently advises the High School Prevention Club and is extremely proud of all her students who choose to be a positive leader or advocate.
Her experiences include traveling around the state of Washington as a YMCA Summer Camp Youth Counselor, giving a year of service through City Year in Los Angeles, and working with communities around Seattle & South Africa. She loves traveling, the performing arts, reading, hiking, and spending time with family.
Eveth Padilla - Community Coalition Program Facilitator
Eveth moved to Sunnyside when she was 5 years old and graduated from Sunnyside Highschool. She attended Eastern Washington University where she received a B.S. In Community Health, Minor in Communication Studies and a B.A. Certificate in Leadership. She enjoys helping people and learning. She followed one of her many dreams by moving to Uganda where she lived for a few months and educated the communities about HIV, Malaria and Nutrition. During her stay in Uganda she created one of her favorite memories which was integrating with a community, learning about the Bantu tribe located in Southwest Uganda, their culture, and their language. She also had the opportunity to learn their local dance.
She recently moved back to Sunnyside and is excited to work and grow with the community.
Here she is wearing a dress and headband made out of Kitange , which was hand made by a Ugandan seamstress. Kitange is a African fabric that is made up of different prints. This is one of Eveth's favorite pictures.